Click on pictures for larger views.
Signed Vintage Bracelets Page 1 A-I , 2
J-O , 3 P-Z
---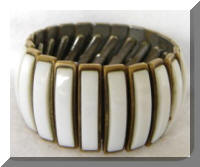 Japan Plastic Tile Stretch Bracelet
A nice expandable bracelet marked Made in Japan. This bracelet is 1-1/4" wide with the un-expanded inside measurement of just under 2" across. It has white plastic rectangular "tiles" on goldtone (actually it looks kind of bronze colored). It is in wonderful vintage shape. $25.00
---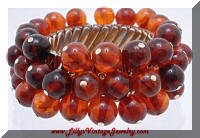 Vintage Beaded JAPAN Cha-Cha Expansion Bracelet
These bracelets are just fun to wear! A gold tone stretch band with with lots of plastic amber colored beads doing the cha cha on your wrist. This bracelet is marked Japan. It measures approx 5-8" wide and un-stretched about 1-5/8" across the inside diameter. #11020719 $38.00
---

Cha-Cha Japan Black Bead Expandable Bracelet Vintage
Fun cha-cha beaded bracelet marked made in Japan. It is a silver tone metal Expandable stretch bracelet with many dangling black glass beads. It is fairly heavy for a bracelet because of the glass beads. $38.00
---
Vintage Cha-Cha JAPAN faux Pearls Expandable Bracelet

You just have to love these cha-cha bracelets. This one has the soft beige colored faux pearls attached to gold tone and the inside being silver tone. It is marked Made in Japan. Just full of fun. #1216077

SOLD
---
Vintage JAPAN Pastel Beads Cha-cha Bracelet
A flat silver tone cha-cha charm bracelet marked Japan on the fold over clasp. This bracelet has faux pearls, pearlized baby blue beads, lavender swirled, purple and clear art glass beads. A few of the faux pearls have "ships" in the coating but nothing noticeable when worn. This bracelet measures approx. 7" and is full of fun. #509081 $38.00
---
Vintage JOMAZ Golden Rhinestones Hinge Bracelet
A classy gold tone hinged bracelet with pave set clear round rhinestones. Only half of the bracelet is paved with rhinestones, the other side is textured gold tone. This bracelet is signed Jomaz ©. This bracelet measures approx. 6-1/2" inside circumference x 1/4" wide. #222104 $55.00
---
Vintage KRAMER White Floral Rhinestones Bracelet
Summer fun with this gold tone bracelet marked Kramer ©. This bracelet has white plastic leaves and flower buds. The flower buds have small round clear rhinestones. This Kramer bracelet measures approx. 7" x 1". #129091 SOLD
Click here to see matching brooch!
---
KRAMER Purple Moonglow Rhinestones Bracelet
A gorgeous bracelet marked Kramer ©. This bracelet is silver tone with plastic purple domed moonglow and clear rhinestones of baguette and round cuts. This bracelet measures approx. 7-1/2" x 1/2". #10110815 $48.00
---

LISNER Chunky Gold tone Leaf Bracelet Vintage
A beautiful textured gold tone leaves chunky link bracelet marked Lisner ©. This bracelet is in fabulous shape with the only wear being where the links connect. It measures 7-1/4" x 1-1/8". $25.00
---
LISNER Champagne AB Rhinestones Golden Leaves Bracelet
A gorgeous bracelet marked Lisner ©. This bracelet is gold tone feathery leaves with topaz marquise and aurora borealis round rhinestones. This bracelet measures approx. 7-1/4" x 1/2". #927124 $40.00
---
Vintage 925 STERLING Hecho en MEXICO faux Opals Bracelet
A stunning 6 link bracelet marked Sterling 925 on the clasp and Hecho en Mexico in a circle on the back of a link. It appears to have something else originally stamped with both marks but it is no longer legible. Three of the silver links have faux black opal cabochon. They appear to be glass with foil confetti for the appearance of opals. The other 3 links have circles with pictures. The first one appears to be some type of god. The second is a man's head inside of a bear or tiger or lions head. And the third is some type of building with cacti in the foreground. The total wearable length of the bracelet is 7" and is just under 1" wide. It is in very nice shape except for the spot above the 3rd opal. #713078 $65.00
---
Vintage HECHO EN MEXICO Abalone Inlay Butterfly Cuff Bracelet
A very pretty silver tone (pretty sure it's sterling, just not marked as such) cuff bracelet, marked Hecho En Mexico. It has a beautiful inlay of abalone shell in the form of a butterfly for the center. This bracelet measures 1-3/4" wide and the inside circumference is just over 6". $50.00
---
Vintage MEXICO Turquoise Inlay Bracelet
A fun figural fishes bracelet marked Mexico. Silver tone with turquoise inlay chips. This bracelet measures approx. 1" across and approx. 7-1/8" inside circumference with a 1-3/8" opening. #408097 $40.00
---
Vintage MEXICO Alpaca Silver Abalone Floral Bracelet
A pretty silver tone bracelet marked Mexico and Alpaca. The center section has black (maybe onyx), abalone shell and mother of pearl (MOP) inlays making up of a pretty flower. This bracelet is slightly adjustable if careful. It measures approx. 1" wide x 6-3/4"" in circumference including the 1-1/4" opening. #1220104 $38.00
---
Vintage MEXICO Lizard Copper Cuff Bracelet
A large copper cuff bracelet marked Hecho Mexico and something else that we can't make out. The front has a gold tone lizard with an abalone inlay. This bracelet measures approx. 2-1/2" x 7-1/2" inside circumference. #222121 $45.00
---
Vintage Fun Classy Miriam HASKELL Cabochon Bracelet
A classy gold tone bracelet marked Miriam Haskell on an oval plague attached to the inside. It is a pierced clasped hinged gold tone base with a large heavy thick chain attached by wires. The center piece is a highly domed deep red, almost brown, plastic cab with swirls, prong set in a gold tone frame. This bracelet still has the safety chain attached. This bracelet was made in 1973 and designed by Larry Vbra. The side picture shows were the chain is a bit loose but I don't see any broken wires or anything showing damage. It is in wonderful vintage shape. Just slight surface scratches in spots of the chain area. No where near as bad as the magnified photo shows! measures 2-1/2" from hinge to clasp, 7-1/8" inside circumference. #429084 $95.00
---
Vintage MONET Chunky White Plastic Bracelet
A chunky bracelet marked with a hang tag stating Monet. This bracelet has gold tone framed links with white plastic inserts. This bracelet measures 7-1/2" wearable length x 1-1/4" wide. $20.00
---
MONET faux Pearls Gold tone Bracelet
A very classy gold tone bracelet with small fax pearls and pearlized cabochons. This bracelet has a hidden push in box clasp and is marked © Monet. measures 7-1/2" wearable length by 5/8" wide. It is in excellent shape. #11020721 $25.00
---
Vintage MONET Golden Bamboo Links Bracelet
A classic textured gold tone bracelet marked Monet on the clasp and by a hang tag. This bracelet has a bamboo design. It measures approx. 8" x 1/4". #9121112 SOLD
---
Vintage MONET Golden Crown Hinged Bracelet

A classy gold tone hinged bracelet marked Monet. They way this is designed, each side looks like a crown. It is fairly heavy and well made. This bracelet measures approx. 1" x 7-1/4" inside circumference. #5201223

SOLD
---
~ Go To Vintage Signed Bracelets page 3 ~