Click on pictures for larger views.
Signed Vintage Bracelets Page 1 A-I , 2
J-O , 3 P-Z
---
1/20 12K Scrolling Rose Gold Vintage Bracelet
Beautiful Simple scrolling cuff bracelet that is marked 1/20 12K for the gold fill content. This bracelet measures approx. 3/4" wide with the circumference being 7-1/4" (including the 1-1/4" opening). #1161425 $30.00
---
24K Silver Electro Plated L/XL Cuff Bracelet
This bracelet is used and fairly contemporary, not vintage. It is marked 24K Electroplated and L/XL. It measures approx. 1/4" wide. The inside circumference is approx.7-1/4" (including1-1/4" opening). #4080919 $10.00
---
ART Purple Cabs Rhinestones Golden Vintage Bracelet
A pretty textured gold tone leaves bracelet with accents of clear round rhinestones and purple glass cabochons. This bracelet is signed ART ©. It measures approx. 7" long x 5/8" wide. #9271215 $45.00
---
Avon Breaking News 1/12/2010:
The initials on some Avon pieces (NR, BW, SP, SH, WN etc.) are NOT designer initials as many have attributed online.
This quote directly from Avon:
"The initials on some of our jewelry pieces are an internal company code for our jewelry in manufacturing. This identifies the vendor who has manufactured the jewelry for us. In some cases, the same piece of jewelry could be manufactured by two different vendors."
Thanks to Ronda Allman for getting this info from Avon.
---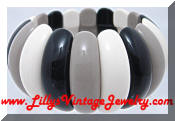 Vintage AVON Stretch Chunky Grey White Black Plastic Bracelet
A stretch chunky plastic bracelet with taupe grey, black and white domed tiles. It is un-signed, but is by Avon from 1986. Referenced on page 115 of "Plastic Bangles" by Tortoriello & Lyons. The original ad from 1986 can be seen here! This bracelet measures 1-1/2" wide and the inside circumference is approx. 7" un-stretched. A very classy and comfortable bracelet. $20.00
---
AVON Scenic Plastic Wide Bangle Bracelet
A wonderful summery scenic plastic bracelet. The base color is turquoise with cloud white and blue hearts, green leaves, red and yellow flowers, and an artistic yellow, pink and white flower. This bracelet measures approx. 1-1/2" wide x 8" inside circumference. This bracelet is not marked but you can see the original ad here!! It is Avon from 1987 called Tropical Beauties. I also have the matching earrings here! #4080922 $25.00
---
BSK Aurora Borealis Blue Art Glass Rhinestones Link Bracelet
Gorgeous silver tone link bracelet with AB art glass cabs, round and pear shaped rhinestones. The ab finish on the cabs almost looks like carnival glass. This vintage bracelet is marked © BSK. This bracelet measures approx. 7-1/4" long x 1" wide. #1161422 $40.00
---
BELL Trading Post Solid Copper NA Vintage Bracelet
A stylish bracelet marked Solid Copper and the mark for Bell Trading Post Jewelry Co. The designs are of arrows, sun and other Native American symbols. This bracelet measures approx. 3/8" wide x 6-1/2" inside circumference with a 1-1/2" opening. #2220931 $25.00
---
Vintage BELL Copper Braided Cuff Bracelet
A copper cuff bracelet marked Bell Copper with the bell. This bracelet has an applied braid design. This bracelet measures approx. 3/4" wide and approx. 7" inside circumference including the 1-1/2" opening. issues: slight wear to the lacquer finish. #6191116 $20.00
---
Vintage BERGERE Silver tone Modernist Link Bracelet
Solid highly polished silver tone finish with 6 modernist designed links. This bracelet is marked Bergere on the clasp. measures approx 7-1/4" wearable length and is3/4" at the widest points. $35.00
---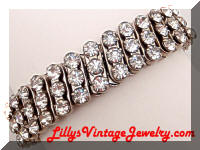 British Hong Kong Art Deco Rhinestones Expansion Bracelet
A classic silver tone stretch bracelet with clear round prong set rhinestones. This bracelet is marked Made in British Hong Kong. The rhinestone links on this bracelet are slightly diagonal. This bracelet measures approx. 1/2" wide and while completely relaxed, 5-1/2" inside circumference. #122101 SOLD
---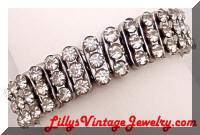 British Hong Kong Art Deco Rhinestones Expansion Bracelet
A classic silver tone stretch bracelet with clear round prong set rhinestones. This bracelet is marked Made in British Hong Kong. These bracelets are great when stacked with others. The rhinestone links on this bracelet are straight across. This bracelet measures approx. 1/2" wide and while completely relaxed, 5-1/2" inside circumference. #122102 $30.00
---
CARMEN Monogrammed Sweetheart Expansion Bracelet
A historic beautiful expansion bracelet marked CARMEN. The monogram inside the heart shows KMcR. Sweetheart bracelets were very popular during WWII, as soldiers gave them to their wives, girlfriends, mothers and sisters. These bracelets are usually gold filled, but there is no markings on this one to that effect. This bracelet measures approc.1" at the widest point. issues: some plating wear on the back but not as noticeable as the magnified photo shows. #1161424 $50.00
---
Vintage CLAUDETTE Red Inserts Bracelet
A classy bracelet marked twice with Claudette. This bracelet is gold tone with red plastic leaf inserts. This bracelet measures approx. 7" x 1-1/4" with a fold over clasp. #1017107 $38.00
---
COLAK 22 22 C189 Gold Bangle Bracelet
---
Vintage Copper Zuni Knife Wing Bracelet
Native American themed Copper bracelet depicting the Zuni Knife Wing on each tile or link. It is marked Copper in 2 places on the clasp. measures 7-1/2" x 1/2". $30.00
---
Vintage Genuine Copper Ballet Dancers Chunky Link Bracelet
A gorgeous copper link bracelet with talented designs of a male & female ballet dancers dancing gracefully across your wrist. This bracelet has a sticker on the back showing Genuine Copper. It measures 7-1/4" wearable length x just over 1-1/2" wide. It is in excellent shape with the perfect patina. #3250713 $45.00
---
Vintage COPPER Southwestern Shield Bracelet
A pretty south western style copper bracelet. It is marked copper on the hooking clasp. This bracelet measures approx. 7-1/4" long x 3/4" wide. #902121 $25.00
---
Solid COPPER Southwestern Cuff Bracelet
A pretty copper bracelet with a southwest design. It is marked Solid Copper. It measures approx. 1" at the widest point, with the inside circumference being 7-1/2" (including the 1-1/4" opening). #821084 $25.00
---
CORO AB Rhinestones Carnival Art Glass Shells Bracelet
A unique gold tone bracelet marked Coro in script with the Pegasus. This bracelet has aurora borealis round rhinestones and art glass iridescent shell shaped stones. This bracelet measures approx. 7" long x 7/8" wide. issues: goldtone plating loss, enlarge photos for details, not as noticeable to the naked eye. #916124 SOLD
---
Vintage CORO Pink Enamel Leaves Beads Bracelet
Pretty pink enameling on the leaves with small pink plastic beads for accents. The base of this bracelet is gold tone. It is marked Coro in script on the clasp and the first leaf and also marked Des. Pat. Ped. The wearable length of this bracelet is approx. 7-1/4" long. It is in fabulous shape. #405086 $38.00
---
Vintage CORO Golden Bamboo Chunky Bracelet
A beautiful large bracelet marked Coro in script with the Pegasus and Pat. Pend. I have seen this type been called a vine and bamboo design. This bracelet measures approx. 1-3/4" x 7-1/4". #807085 $35.00
---
Vintage CORO Orange Lucite Inserts Bracelet
A wonderful gold tone bracelet with orange moonglow Lucite squares. This bracelet is marked with the Pegasus Coro is script, although hard to read. This bracelet measures approx. 7-1/4" wearable length x 3/4" wide. It has a safety chain and a push in clasp. #815092

SOLD
---
Vintage CORO Silver Fan Bracelet
A classic silver tone bracelet marked with the Pegasus Coro in script ©.The links are fan like with a textured design. This bracelet measures approx. 1-1/8" x 7-1/2". #5201221 $38.00
---
Vintage CORO Blue Confetti Silver Leaves Bracelet
Pretty silver linked bracelet with rectangle blue confetti inserts. This bracelet is marked Coro in script ©. This bracelet measures approx.7-1/4" long x 3/4" wide. #620144 $38.00
---
DeLizza & Elster JULIANA Blue Rhinestones 5 Link Bracelet
A simple but classy 5 link bracelet from DeLizza & Elster Company. This bracelet is silver tone with round and emerald shaped sky blue rhinestones. All of which are prong set. This bracelet measures approx. 7-1/4" x 1". issues: 2 of the large round rhinestones are a bit cloudy reflected in the price. #5201225 $85.00
---
DeLizza and Elster JULIANA AB Crystals Rhinestones ChaCha Bracelet
A gorgeous gold tone cup 5 link bracelet made by DeLizza and Elster Company for the Juliana Jewelry line. This bracelet has aurora borealis dangling crystals, clear navettes and round rhinestones. All of the rhinestones are prong set in gold tone. This bracelet would be perfect for a bride on her wedding day. The bracelet measures approx. 7-1/4" x 7/8". #6051114 $135.00
---
Vintage Emmons Silver tone Cuff Bracelet
Pretty smooth and textured silver tone modernist design cuff bracelet marked Emmons. This bracelet measures approx. 1-3/8" across and 7" inside circumference including the 1" opening. #4080916 $35.00
---
Vintage FLORENZA Red AB Rhinestones Bracelet
Stunning antiqued silver tone hinged bracelet marked Florenza. This bracelet has large red aurora borealis round rhinestones, prong set in a sea shell silvertone design. The back half of the bracelet has floral etchings from clasp to hinge. This bracelet measures approx. 1/2" across. The inside circumference is 6-5/8". #106098 $65.00
---
GROSSE Germany Gold tone Modernist Link Bracelet
A gorgeous gold tone X link bracelet marked Grosse Germany for Henkel and Grosse Company. This bracelet is heavy and superior quality. It measures 7-1/2" x 3/4". $35.00
---
H&S Golden Swirling Chunky Bracelet
A very cool gold tone swirling chunky bracelet marked H&S © in 2 spots. This bracelet measures approx 1-5/8" x 7-1/4". issues: has a few tiny spots of plating lost but not noticeable to the naked eye. $5201219 $25.00
---
Vintage HAR White AB Rhinestones Baroque Pearls Clamper Bracelet
A rare clamper bracelet marked HAR ©. It is creamy white enamel or white washed with aurora borealis rhinestones and large faux baroque pearls. This bracelet measures approx. 1-1/2" wide x 7" inside circumference. #5201224 $150.00
---
Vintage HARWOOD Leading Lady Rhinestones Bracelet
A beautiful silver tone expansion bracelet marked Harwood Leading Lady. This stretch bracelet has wonderful details. Every other link is a twisted silver tone. The other has rows of square and round cut clear rhinestones. A couple of the squares are a tad yellowing upon inspecting, I tried showing that in the enlarged photos. This bracelet measures approx 1" wide by approx 6" in the un-expanded state. SOLD
---
Vintage HONG KONG Red Rhinestones Expansion Bracelet
A gorgeous red and clear round rhinestones stretch bracelet. It is marked Made in Hong Kong. All of the rhinestones are prong set in silver tone. A couple of stones may be starting to yellow, but no where near as bad as the photo about (bad reflection.) This bracelet measures approx. 1/2" wide x 6" inside circumference while completely compressed. #217124 $38.00
---
Vintage HONG KONG Red White Lucite Clamper Bracelet
A stylish plastic clamper bracelet marked Hong Kong on the hinge but looks like it was stamped over. It has flowing red and one side and white on the other. It measures 1-1/4" wide in the front and 2-1/2" across the inside. It is in wonderful vintage shape. $25.00
---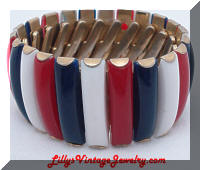 Vintage Patriotic Plastic Expandable HONG KONG Bracelet
A fun red, white and blue plastic inserts stretch bracelet marked ironically, Hong Kong. This bracelet has a gold tone inside finish with slight wear. It measures 1-1/4" wide. #311081 $28.00
---
~ Go to Signed Vintage Bracelets Page 2 ~
Signed Vintage Bracelets Page 1 A-I , 2
J-O , 3 P-Z