Here is where you will find Scratch and Dents, Bargain Basements and or clearance items.
Please read descriptions carefully and look at enlarged photos. These items can not be returned.
Click on pictures for larger views.
---
Silver tone Clear Rhinestones Barrette
A pretty barrette with 2 rows of good size clear round rhinestones. The clasp is spring loaded. The 36 rhinestones are all prong set. This barrette measures approx. 3" x 3/8". Perfect for a wedding or prom. #7250818 $10.00
---
Vintage Stamped Copper Cuff Bracelet

Unusual copper cuff bracelet with hammered designs. This bracelet is not rounded but has "corners". On the insides there are clasps as if maybe it were originally a buckle or something but looks great as a bracelet. It measures 1-3/4" wide x approx 7" inside circumference with a 1-5/8" opening. $12.00
---

Vintage Plastic Insert Mocha Expandable Bracelet
A fun chocolate brown plastic stretch bracelet. This bracelet is tight. It measures 1-1/4" wide. There is wear to the plastic inserts if you look closely, but not as bad as the magnified photo show. #11020722 $18.00
---
Beautiful Vintage Blue Rhinestone Flower Pin Brooch
A vintage rhinestone flower brooch/pin. This pin has 6 marquise baby blue rhinestone pedals with a dark blue chaton cut center rhinestone. The pedals bend back towards the wearer instead of out or straight. The rhinestones are paste set in gold tone. The pin measures 2-3/4" x 1-3/4". If you look really closely, you can see minimal damage to the gold foil backs. $15.00
---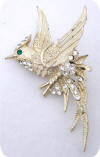 Vintage Beautiful Rhinestone Bird of Paradise Brooch
An un-signed gold tone bird pin that is identical to many book piece Boucher's, from the front. It is a brushed gold tone with pave set clear rhinestones in the neck, tail, crown, and tree branch and a green rhinestone for the eye. This pin measures 2-7/8" x 1-3/4". Very Pretty brooch. In my humble opinion, I believe this is not a Boucher BUT based on the Boucher design and made in the 1960's. It is is great vintage shape with just a couple of minor spots of wear to the gold tone on the beak & wing tips. $17.00
---
Vintage Pink Givre Rhinestones Brooch
Pretty curling silver tone brooch with pink round rhinestones and pink & white art glass giver rhinestone marquise. All of the rhinestones are prong set in silver tone. This brooch measures approx. 2" x 1-3/4". issues: silvertone is dull. #9190915 $20.00
---
Vintage Standing Figural Gardner Rhinestones Brooch
An adorable 3D gardening brooch that needs a TLC home. This little brooch stands on it own. It is gold tone with red and clear rhinestones. It's a gardener (with little plating loss on arm) in a little hat and shorts with his wheel barrow, flowers and fence. In the wheelbarrow is a clear fairly large round chaton (which I think is a replacement). This little pin measures approx 1-1/2" x 1" x 1/2". #1100818 $10.00
---
Vintage Caged Pearls Knot Necklace

A pretty faux pearls and gold tone necklace. This necklace has caged faux pearls and golden knots for the center attention This necklace is adjustable with a J hook clasp. This necklace measures approx. 1-1/2" long. Issues: very slight wear to the gold tone. #102307100 $15.00
---
Vintage Heavy Golden Aqua Rhinestone Collar Necklace
A lovely gold tone heavy necklace with small clear round rhinestones and a large emerald aqua rhinestone. All of the rhinestones are prong set. This necklace measures approx. 15" long with a fold over clasp. issues: gold tone plating wear on the back side. #815094 $20.00
---
Vintage Pretty Peridot Green Rhinestone Fringe Necklace
A pretty rhinestone necklace with small peridot round rhinestones and a marquise Kelly green center. All of the rhinestones are prong set in gold tone. It measures approx 15" long with the center being 2-1/2" x 1-1/2". Just to the right of the center bottom in the picture, you can see that it is not connected like the other side. I don't see where any solder was broken, so it may be that it came this way from the manufacturer. #128082 $18.00
---
Vintage CORO Confetti Inserts Bracelet
TLC piece. A vintage Bracelet marked © Coro. This bracelet has some plating issues but as bad as the magnified photo shows. It is gold tone with brown confetti and pea green Lucite square inserts. This bracelet measures approc.7" long x 3/4" wide. #5050920 $10.00
---
Vintage CORO Silver tone Leaves Bracelet
A classic silver tone bracelet marked with the pegasus Coro ©. This bracelet has inter woven silver tone leaves. It measures approx. 7-1/2" x 1-1/4". issues: slight plating wear but not as noticeable as the magnified photo shows. #9190932 $20.00
---
Vintage MEXICO Sterling Bangle Bracelet
A classic pretty bangle bracelet marked only Mexico but I'm sure it is sterling. Slight scratches and s mall flat spot, like it's been dinged. It has not been polished. measures 1/4" wide, 2-3/4" across and approx. 7-7/8" inside circumference. $15.00
---
---
Vintage TRIFARI Golden Bracelet
A gold tone link bracelet marked with the Crowned Trifari ©. The links do have a slight curve to them. This bracelet measures approx. 3/4" wide x 7-1/4" wearable length. issues: some pitting to the finish (may buff out). #1123092 $15.00
---

Old Vintage CZECHOSLoVAKIA Enamel Boy Pin Brooch

A fabulous Czech enamel pin. The green is much more colorful then the picture shows. It's more of a kelly green. He kind of reminds me of a leprechaun.
This pin is marked CZECHOS(backwards)LoVAKIA. It has a "c" clasp. The only thing I see wrong with it is the enamel chip & crack on the legs, which is very evident in the magnified picture. This pin measures 1-1/8" tall.
---
Vintage Christmas Candle GERRY's Brooch
Festive holiday pin marked Gerry's. This pin is gold tone with green enameled leaves, red hollies, white candle drippings and yellow and orange flame. This brooch measures approx. 2" x 1-1/2". Issues; slight enamel wear at the flame tip. $10.00
---
---
ROYAL of PITTSBURGH Pink Rhinestones Leaf Vintage Brooch
A pretty large leaf brooch marked Royal of Pittsburgh. This brooch has mauve pink opaque marquise cabochons, marquise rhinestones and a round cut clear rhinestone. All of the rhinestones are prong set in silver tone. This brooch measures approx. 3-1/2" x 2". issues: The marquise are either smoke grey with foil damage or were once clear and darkening from foil damage. Priced accordingly. #5140910 $28.00
Click here To see an ad from 1946 in Hapers Bazaar with a similar brooch.
---
Vintage TRIAD AB Rhinestones Sugar Coating Brooch
An interesting brooch marked Triad. When I first saw this pin, I was expecting an Austria mark. It has long slender leaves with the "sugar coating" that seem to be a bit worn. There are spays of dark aurora borealis round cut rhinestones. This brooch measures 2-1/4" x 2". $15.00
---
Vintage TRIFARI Golden Circle Brooch

Simple textured gold tone circle brooch marked with the crowned Trifari. This brooch measures about 1-1/2" across. There are darken spots visible in the magnified photos but not real noticeable in person. #7250898 $10.00
---
Old Vintage VAN DELL 1/20 12k GF on STERLING RS Pin
A wonderful brooch, marked Van Dell 1/20-12k-GF on Sterling. This pin is fabulous. The gold is two toned. Part of it is bronze colored and the other is golden. It has two green chaton cut stones that are paste set in the flowers. It measures about 3-1/2" long. The pin does exceed the clasp by quite a bit. It is in wonderful vintage shape although the clasp probably could use an adjusting, sometimes it does open if you don't close it completely. $22.00
---
Vintage Austria Aurora Borealis Rhinestone Leaf Earrings
A pretty pair of clip-on gold tone earrings with aurora borealis rhinestones, marked Austria. Measures 1" $15.00
---

Vintage AUSTRIA Flower Yellow Rhinestones Earrings
Bright yellow rhinestones centers in the textured gold tone flowers. The clips are marked Austria. They measure 3/4" across and has slight wear to the backs but are in good vintage shape and very pretty. $15.00
---
Vintage CORO Silver tone Ribbons Clip-on Earrings
Fun smooth and textured silver tone ribbon like clip-on earrings marked © Coro in script. These earrings measure approx. 1-1/4". The fronts look fabulous, the backs show a bit of wear to the silver tone finish. #1100832 $15.00
---
Golden Green Chunky Charms Vintage Bracelet
A unique vintage golden charm bracelet. This bracelet is accented with green plastic beads and inserts. There are 2 V charms, an eagle, a coin and a 3D triangle type. This bracelet measures approx. 6-1/2" wearable length. The largest charm is approx. 1-3/8". issues: wear to the plastic pieces (see enlarged photos). #11230917 $18.00
---
Cute Vintage Rhinestones Fish Brooch
A wonderful rhinestone fish pin. This pin measures almost 2" long. It is gold tone with clear and black prong set rhinestones. The top long navette is grey colored. I'm not sure if it was clear and is darkening or if it was gray and has some damage to the foil backing. Either way, it's still a wonderful fish pin. It is un-signed but does remind me of Warner pieces. $20.00
---
Vintage Mother of Pearls Button Scatter Pins
A pair of vintage MOP button brooches. These pins measures approx. 1-1/8" across. #2220920 $12.00
---
Carved MOP Vintage Button Brooch
Pretty and classic mother of pearl button brooch. This brooch measures approx. 1-1/4" across. #2220920A $10.00
---

Retro Gold tone Rhinestones Bow Brooch Pin
An adorable small retro modern gold tone bow pin with aqua rhinestones and a faux pearl center. This pin measures 1-3/8" x 3/4". There are no markings and just a bit of "pitting" to the finish. The gold tone has a rose tint to it. $10.00
---
Vintage Triangle Trilliant Rhinestones Brooch
The photo doesn't do this piece justice. The clear trilliant rhinestones are flat backs with silver foil for reflection. There is some wear to the gold tone finish on the back of the pin. This pin measures approx. 1-1/2" across at the widest points. #601087 $10.00
---
Vintage TRIFARI White Poured Glass Tulip Flowers Bracelet
A gold tone link bracelet marked Trifari Pat. Pend. This bracelet has white milk glass poured glass flowers. This bracelet measures approx. 7-1/4" x 3/4". issues: 3 of the flowers are missing but still very wearable, tiny cracks on 2 flowers that do not go through to the backs. #918103 $20.00
---